Got Mold?
7/29/2017 (Permalink)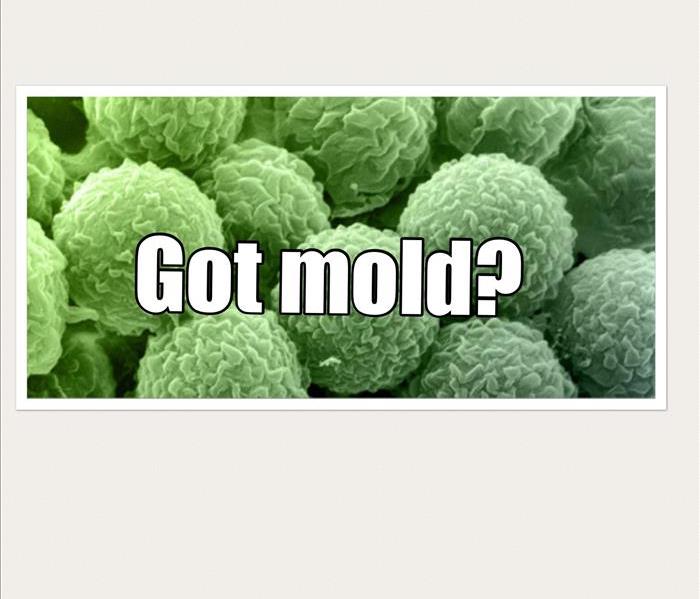 When I hear the word "mold" I think of gross, green, fuzzy, squishy mounds of questionable matter. It's not a topic that gets my "motor running" if you know what I mean?
But, in reality not all mold is dangerous. Mold comes is all shapes, sizes, colors, and levels of toxicity. Mold is an ecological substance and can produce some of our favorite foods. Fungi/mold is used for baked goods/bread, blue cheese, some alcoholic beverages, and penicillin.
Now when it comes to unhealthy mold, this is what we want you to know:
Our summer has been particularly warm with higher levels of humidity.
When dealing with water damages: dish washer or washer overflow, toilet "black water", storm flooding, a leak in your roof. These can all lead to mold if not treated properly.
Some common places/spaces to find mold: storage units, crawl spaces, or in organic materials (wood, dry wall, and insulation) All of these are where? Homes and business buildings.
Here are some signs or things to look out for:
* Visible mold (brown, black, red, green, white)
* Strong musty/ stale air
* Questionable effected areas (water spots on your ceiling, warped dry wall, bulging floor boards or molding)
* Excessive humidity
If any of these are a concern to you, give us a call. Our water technitians are certified and trained to handle mold. We are happy to put your mind at ease.
Cleaning up mold is not an easy DIY project. It should be evaluated, tested and treated by a professional. This is purely for your safety and health and those who can be affected.
We know mold is not a fun and happy topic BUT we want to educate you on something that happens naturally and can spiral if not looked at immediately.
We do our best to put you at ease when dealing with these kind of matters. It may be your first encounter, but it certainly is not ours and we are the best professionals to make mold "Like it never even happened."