SERVPRO and your aftermath blood clean up
11/12/2019 (Permalink)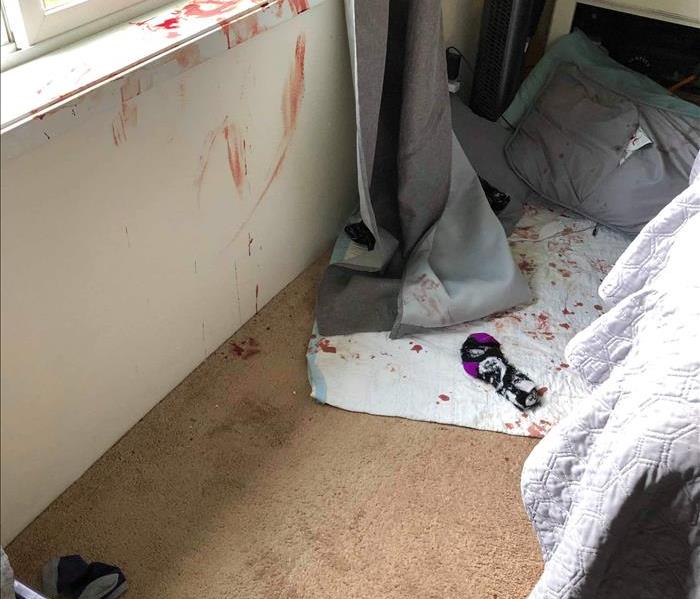 After Maui (an American Bulldog) broke a window, he tracked blood throughout the house. SERVPRO of Gig Harbor/North Tacoma was there to save the day.
Here at SERVPRO we have a large umbrella of what we clean and restore. One of many specialties is Bio hazard clean up.
When blood is involved, not only are you busy and preoccupied with what's going on, one of the last things on your mind is how or when am I going to be able to clean this up?
Recently we had a call from a family whose dog made a large bloody mess. Maui an American Bulldog struggles with being left alone, his anxiety was so bad that he broke a window and cut himself badly in the process. Husband Justin was out of town for work, and wife Ana came home for something 'real quick' to find a broken window and blood everywhere! Blood on the windowsill, couch, curtains, bed, and carpet. On top of that broken glass was everywhere. Ana called SERVPRO, we showed up on the scene right as she was leaving to take Maui to the Emergency Vet Hospital. While Ana was gone and caring for Maui we were hard at work. Our trained technicians cleaned up glass, vacuumed up small glass pieces, cleaned their couch, bed headboard, white curtains and floors. We also boarded up where the window was and made it safe to prevent any future contact with that window area. All blood and any other potential bodily fluids were removed. When Ana arrived home, she was brought to tears at the finished result. She didn't have to fear her child walking into their home looking like a crime scene. She was able to put focus and care into her family and we truly made what was a scary situation into something that looked "Like it never even happened." Aftermath blood clean up is one of many things we do here at SERVPRO of Gig Harbor/North Tacoma and SERVPRO Mason County.