Food for Backpacks
1/10/2019 (Permalink)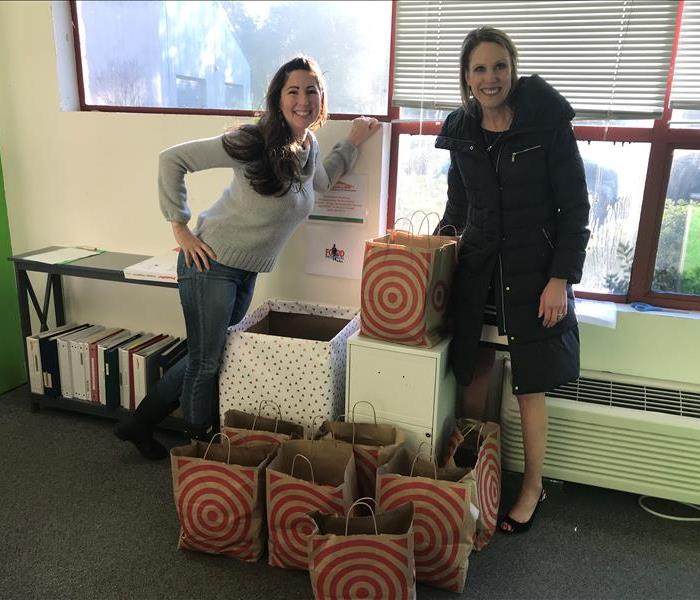 Marketing Rep. Nicole and a rep from Sound Credit Union. Sound Credit Union donated around 90-100 bags in their 12 days of giving champagne.
Welcome to the New Year.
Are you still recovering from the hustle and bustle of the holiday season? In December, here at SERVPRO we committed to helping a local organization. Our office contacted the wonderful ladies at our local Food for Backpacks group and asked how we could help give back this 2018 holiday season.
Food for Backpacks is a local organization that is able to put together backpacks for kids who may not have the resources for regular meals. After speaking more and more with the organizers of F4B, our eyes were opened to the fact that there is a large percentage of kids who go to school to be provided with daily hot meals within our very community. When the holidays come into view, these kids who receive daily meals would now have to figure out daily meals at home for the holiday breaks to come. How scary!
When speaking with Food for Backpacks, we were met with enthusiastic feedback and asked to collect 400 cookie and brownie mixes. 400 seemed like a large number, in fact we were worried we wouldn't be able to collect that from people.
Our marketing department posted on social media platforms, such as: Facebook, Instagram and Linked in. We made flyers and sent them out to our local contacts and business, we let our weekly networking groups know of our goal and deadline. One of our employees even posted on their neighborhood Facebook page to ask their neighbors if they were interested in helping.
It's so amazing how the holiday season brings a community together to support those who don't have much of anything. Word spread and before you know it our office was seeing local neighbors, business owners, people who had heard from the grapevine bringing in bags and boxes. Out of state relatives got onto Amazon and had deliveries made to the office.
Here at SERVPRO we were overwhelmed by the generosity of others, who have a large heart to give back to these very deserving kids. No one should have to worry about their next meal, especially a child.
We can't wait to be involved in something like this again and look forward to the next opportunity to give back to the community.
Thank you to those who donated and a BIG thank you to the amazing volunteers and organizers at Food for Backpacks.
If you are interested in reaching out to help, check out their link: