Gearing up for Halloween
10/6/2017 (Permalink)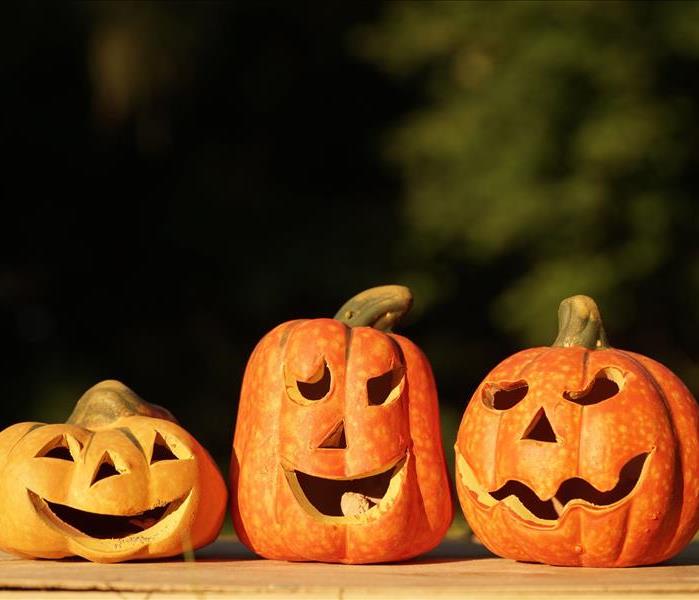 Halloween is just around the corner and we will be surrounded by trick or treaters in your work offices and neighborhoods. Who doesn't love seeing cutie patooties running around in cleverly thought up costumes, polyester fabric as far as the eye can see, sugar crashes for the next two to three weeks? I mean, who doesn't love paying for the rest of the year in cavities one incurs on this evening of candy? I do enjoy hearing what my littles want to be next year for Halloween before we even say good night on Halloween.
As a parent, Halloween isn't all about sneaking my favorite candies while my kiddos dream of next year's costume possibilities. I get extreme fear and anxiety over all the potential threats our children face in this short 24-hour period. So please take a cautionary moment to read my forewarnings. There is a chance it may not happen BUT if it were you can say you are prepared.
Tip #1- your child may not be the only "Darth Vader" or "Belle"- surprise, I know. If your little one chooses a popular costume for this year, make sure they have a name and contact number somewhere on their costume or for one night written on their arm. You can also put it on their candy bucket or pillowcase, whatever their collection bag of choice is.
Tip# 2-Make sure if they are wearing dark colors or a lot of black and you may be out- please be sure to invest in some reflectors or glow sticks to be able to catch drivers eyes.
Tip #3- If you have a large landmark you can appoint for a meet up in case you get separated.
Tip #4- After your sugary loot is collected and accounted for, as parents we need to make sure it all looks legit and not shady. Check for sharp objects, choking hazards, or maybe some candies that look like they have been previously opened. And as a parent who has had to deal with food allergies, you know to check for any potential anaphylactic producing candy.
Tip #5- Try to stay on the sidewalks as much as possible. If this isn't an option, make sure an adult is walking on the outside of where cars are passing.
Tip #6- If all of this seems way to daunting to even leave the house for the day, there are many day time 'Trick or Treating' opportunities. The best thing about this, they are typically blocked off from traffic or are indoors. Score!
Trick or Treat without the all-night expense:
Chapel Hill Preschool Park- Thursday October 26th 10-12:00pm: Great for the littler kids who may not make it past 7:00pm. Wear your costume, meet other Gig Harbor Mommas, no candy but there is usually a plentiful supply of Goldfish and water. Suggested $1 donation for the family.
Sehmel Park Scarecrow Festival- October 6th (I know this one has passed but it's a great one to mark your calendar for next year.)
Macaroni Kid here in the Harbor is advertising the 1st annual Trunk or Treat- Saturday October 21st 4:00-8:00pm @ Gig Harbor High school. Canned donations are being collected. Come in costume and ready to get candy.
Trick or Treat in the Harbor Tuesday October 31st 3:00-6:00pm: Trick or treat on our local business strip. Businesses close to hand out candy to our community kids, the fire department and police station represent as well. Grab a coffee and stroll with your kids and enjoy a stress-free Trick or Treating experience.
And there is always the easy and most comfortable route: dress like an old person in their jammies and hand out candy to young whipper snappers until 5:00pm. Then it gets dark and it's time to nestle up to the fire place with the candy you failed to give away and watch your favorite Halloween themed movie.
We hope this article is of some use to you this Halloween season. Take care, be safe, eat candy in moderation, or don't. We won't judge but unfortunately, we cannot make those calories or cavities "Like it never even happened."