Winter temperature drops
2/6/2019 (Permalink)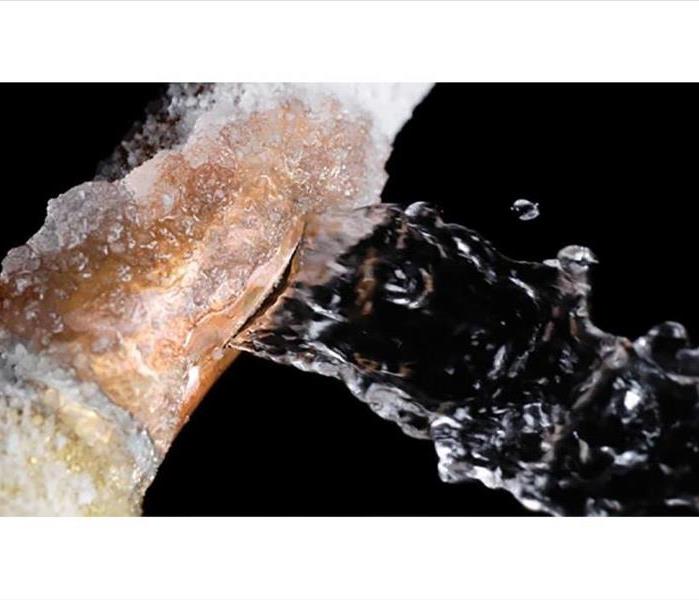 What to do when your Gig Harbor/North Tacoma home's pipes freeze?
Locally owned and operated SERVPRO of Gig Harbor/North Tacoma takes pride in helping our local community in their time of need. When your Gig Harbor home's pipes freeze you can count on SERVPRO of Gig Harbor/North Tacoma. We have 15 years of experience helping Gig Harbor and surrounding areas, homeowners after their pipes have frozen, thawed and then flooded their home. SERVPRO of Gig Harbor/North Tacoma will make it "Like it never even happened."
As we come into colder winter temperatures, we are all at risk of our pipes freezing and that can lead to pipes bursting. We have suggestions if you find that your pipes may be frozen, and list of suggestions on preventing pipes from freezing.
One of the first signs that you have a problem, and even possibly a frozen pipe, is no running water coming out of your faucets when you attempt to turn it on. If this does happen check to see that your home's water supply is still turned on, and that there are no obvious leaks anywhere. If your search concludes that your pipes are more than likely frozen, but not yet burst, we recommend calling your local plumber to help thaw your pipes. This is a good path for those who are unsure if they can safely thaw pipes themselves or if you are unaware of where the frozen pipes are located/can't access the area of the house where the pipes are frozen.
But we also want to help prevent frozen pipes, so be proactive and follow these recommendations:
Make sure all pipes that are exposed to the extreme temperatures are drained. This includes but not limited to swimming pool and exterior sprinkler system supply lines.
Disconnect any hoses from the exterior or your house. Drain the hoses and store them in the garage. Make sure that you keep your garage door closed at all times.
Insulate the area around light fixtures, vents, and exterior faucets. This helps prevent freezing temperatures from gaining access to your home.
Open cabinet doors that have plumbing running in them. This helps the warm air to circulate around the pipes, keeping them warm.
Allow your faucets to drip cold water on the coldest days. The movement will make it harder for the water to freeze inside the pipes.
In your house never let your thermostat fall below 55 degrees Fahrenheit. Night and day make sure that your home's temperature never dips below freezing. This is one of the leading causes of frozen pipes, people do not want to pay for heating their homes when they are not it their homes. BUT – turning your heater off could lead to a risky game of frozen pipe roulette.
Check all exterior seals on windows, doors, garage doors, etc. and complete any necessary repairs to make sure no heat is escaping your house.
Frozen water pipes and the damage they can cause are a serious risk for people in areas that the temperatures dip below freezing, especially for an extended time period. When SERVPRO of Gig Harbor/North Tacoma responds to these types of claims we come prepared to help mitigate the damage and get your home back up and running as soon as possible. Because SERVPRO of Gig Harbor/North Tacoma is a local company we understand your concerns. because at the end of the day they are our concerns too. Give us a call with any questions or concerns you have about frozen pipes in your home or business 253-851-6711.