Knowing how to handle mold
4/4/2019 (Permalink)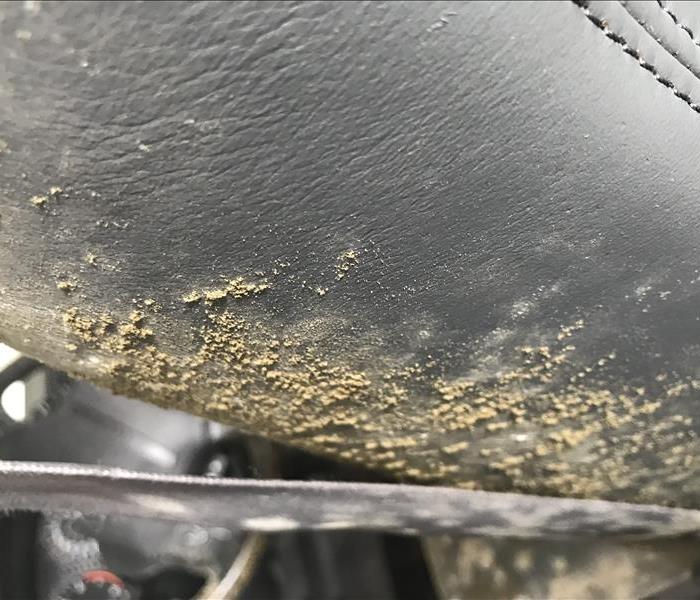 This is a picture of a mold project from summer 2018. Inside a car, mold grew at a fast pace covering the entire inside of the vehicle.
I recently attended a Mold CE class; continued education is important to our industry. As technology advances and we find new ways of researching, cleaning, and improving our methods, it is important to stay up to date on all of this. Not only is it beneficial to prevent liability, but who would you rather give work to, someone who has an idea of how mold should be handled 5 years ago compared to how it should be handled today?
We believe in prevention, taking the steps to prevent a little problem before it turns into a BIG problem. In this class, it covered a story that hit 48 hours back in 2000. You may even recall the story, Allison Ballard and her husband purchased their dream home in Texas. A 22 room mansion on 375 acres. You would think they had it all, until they discovered leak behind their refrigerator. They had a plumber come out to fix the problem but didn't file an insurance claim. Three weeks later they noticed the hardwood floors became warped and buckled. They filed a claim with their insurance, the insurance settlement was delayed for a month. At this time toxic mold had developed and spread rapidly throughout the house. The water claim turned into a mold contamination throughout the entire house. Causing the family to experience several health problems: loss of memory, running noses, dizziness, asthma and coughing up blood. When they visited their doctor, their symptoms were compared to a "really bad flu." Yikes!
Eventually the house was bulldozed and rebuilt, since the story was covered on 48 hours it caused national awareness.
The toxic mold that grew within the Ballard house was Stachybotrys, a black mold and highly toxic. Since 2000, steps to clean and treat mold have changed. In this documentary the family left their home the way it was and fled the scene for their lives. Leaving all personal belongings behind for fear of bringing contaminated items with them. Today, this would not have been the case.
If you discover mold in your home here are is a step by step list:
If you discover more that 10 square feet of mold call your local Mold Hygienist, here in Gig Harbor/North Tacoma we can give you a name and number of who we refer this service to. Call us at 253-851-6711.
A mold hygienist can come to the site and will take one or more tests of the mold. Initially they count the spores in the air and test the toxicity. The hygienist will then compile a 'game plan.'
Be sure to review your insurance policy- depending on your policy the hygienist will either bill you the customer, or your insurance company, or us SERVPRO. All of this varies on the situation. We have seen the price start anywhere from $750 and go up from there, depending on how many 'tests' need to be taken.
The 'Game plan' will be forwarded to either you the customer, your insurance agent (if it's covered) or us SERVPRO.
The next step is for us to come in and remediate the mold by the hygienist suggested manner of removal.
Ok, let's talk about that $750, that's a lot of money if you are A. not covered, or B. covered. Think of it this way, you are preventing this "little problem" from turning into a larger problem. Trust us, you don't want long term health problems, or to leave your home. The Ballard family left all their possessions. We can come in, clean, remove and seal effected areas and make your mold damage "Like it never even happened." It can be a scary and tricky thing to deal with, but we are trained professionals with the very best intentions of helping you in this type of situation. Call us today, we are here to help.